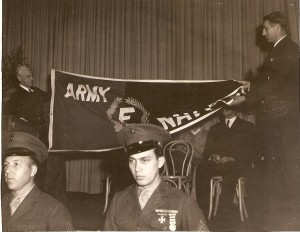 Just before Thanksgiving the company was celebrating their first nationally recognized award. This was when we first received the Army-Navy "E" Flag award. The award originated in 1906 and was for "exceptional performance on the production front" and every six months if the standards continued the company's flag would receive a white Service Star. Few companies in California received this distinction, let alone the three consecutive Service Stars that were awarded up through the end of the conflict. The type of flag was called a Burgee and each employee at the celebration received a lapel pin to commemorate the accomplishment.
At the November 20th award ceremony members of the US Military were on site to give the official presentation and there was a Marine Corps Color Guard in attendance from Moffett Field. It was a great source of pride for the young company and shortly thereafter the E-Flag symbol was incorporated into the Watts Current masthead.
Dave took the award very seriously and not just as a business achievement. At the event, and later reprinted in Watts Current, he asked each employee:
To take a silent oath each morning as we enter the building that we will work constructively each minute of the day, that we may down the Axis workers in in every circumstance until our victory is final and complete.
It is also worth noting that at the time of the award the company joined the 2.5% of all manufacturers in the US to receive an E-Flag. Among these we were the only small electronic industry manufacturer in California to receive this distinction. The instruments that most contributed to the award were the 200C and Dave Packard's own design, the 400A voltmeter.
In case any of you are wondering, this is the same flag that can be seen on display in the History Center with its two Service Stars. If you haven't been by lately it's worth coming in just to see this part of our company's great heritage.